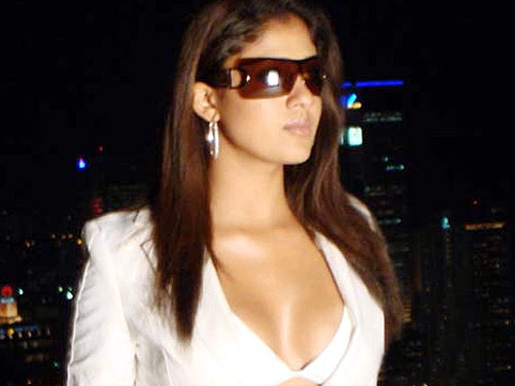 Original Name:
Diana Kurien
Date of birth:
8th Nov, 1984
Father :
Kurian Kodiyattu
Birth Place :
Thiruvalla, Kerala
Debut Film:
Manassinakkare (Malayalam)
Hobbies:
Listening music, traveling, Reading..
Qualification:
Did 3rd DC Eng, LiteratureWon the Best Model Award of Kerala (2002)
ENTRY TO THE FILM INDUSTRY:
Nayathara entered the tinsel world debuting in the Malayalam film 'Manassinakkare', directed by Sathyan Anthikad opposite Jayaram (2003).The Kerala-born Christian girl from Tiruvalla, whose real name is Diana Kurien, had completed her B.A. literature and was doing her Chartered accountancy when films beckoned her. Her striking appearance and acting talent was appreciated by the Kerala audience. The huge commercial success of "Manassinakkare" helped her career in a big way.
Then came her second film, "Vismayathumbath"(2004) by Fazil, with super star Mohanlal. Though the film did not fare well at the box office, Nayanthara has become a noted actress in Kerala film industry. Her pretty looks captured the attention of Malayalam film buffs. She again did a film with Mohanlal, "Natturajavu".The pretty actress stepped into Tamil films with 'Ayya' (2005) where Sarat Kumar was her hero. Her second release in Tamil was the much awaited 'Chandramukhi' where she paired with superstar Rajnikanth. Barely out of her teens and hardly a year in the industry, nayantara seems to have done good career-wise. But strangely her pairings have all been with senior heroes. In between she came back to the Malayalam industry with two films 'Thaskaraveeran' and 'Raapakal' where Mammootty was her hero After crossing the border she has changed her 'seedha sadha' image and has started taking up glamorous roles. Nayanthara and Simbu's intimate life-sized posters in "Vallavan" created shock waves in Chennai. Similar excitement resulted when glamorous posters of "Kalvanin Kadhali" were posted all over Chennai. Her maiden Telugu film 'Lakshmi' has made a big splash in Tollywood. This glamour queen is one of the busiest actresses in the southern film industry today.
Nayantara
Born
Diana Mariam Kurian
November 18, 1984 (

1984-11-18

)
Bangalore, Karnataka, India

[

1

]

Other

name(s)

Nayan, Diana
Occupation
Actress
Years active
2003 - present
Diana Mariam Kurian (born on 18 November 1984),[2] best known by her stage name Nayantara (Malayalam: നയന്‍ താര), is an Indian film actress, who has appeared in Malayalam,Tamil,Telugu and Kannada films. After several commercial successes such as Chandramukhi, Ghajini, Billa and Yaaradi Nee Mohini, she has established herself as one of the leading contemporary actresses in Tamil cinema.[3][4]
Early life
She studied in various parts of India (Bengaluru, Gujarat, Delhi and Kerala)[citation needed], as her father was an Indian Air Force official. She is a Syrian Christian by birth. She did her schooling at the prestigious Kendriya Vidyalaya schools in north India and then attended Marthoma College in Tiruvalla for her Bachelor's degree in English Literature. She is a native of Tiruvalla, Pathanamthitta district.[3].
Career
Nayan was spotted when she was still in college by director Satyan Anthikkad, who cast her opposite Jayaram in the 2003 Malayalam film Manassinakkare. Later, she co-starred alongside Mohanlal in Natturajavu and in Fazil's Vismayathumbathu. She was also cast with Mammootty in Thaskaraveeran and Raapakal.
She subsequently started appearing in Tamil and Telugu films. 2005, she was cast opposite Sarath Kumar in Ayya, debuting in the Tamil film industry, and followed it up with Chandramukhi. The comedy horror film, in which she starred alongside Rajinikanth, became one of the most successful Tamil films in history, running for over 700 days in theatres, turning Nayantara eventually into one of the most-sought after actresses in Tamil. Later that year her third Tamil film, A. R. Murugadoss' Ghajini released, where she played a secondary female character, which again was a commercially highly successful venture. She then made her debut in Telugu, starring in the film Lakshmi, following which she performed in Boss, alongside Venkatesh and Nagarjuna, respectively. She regained her star billing in Kollywood acting opposite Ajith Kumar in the Vishnuvardhan-directed Billa. The gangster film, a remake of the same-titled 1980 Tamil film, went on to become a blockbuster success at the box office.
In 2008 she had five releases, four of which in Tamil. Her first release, the family entertainer Yaaradi Nee Mohini was one of the highest grossing Tamil films of the year, besides receiving seven nominations at the 56th Filmfare Awards South, including a Best Actress nomination for Nayantara for her portrayal of Keerthi. Her subsequent releases, however, Kuselan opposite Rajnikanth, Sathyam opposite Vishal, Aegan opposite Ajith Kumar and Villu opposite Vijay were all unsuccessful. Her only successful release in 2009 was Aadhavan with Surya which released in October 2009, and become one of the few hits of 2009 which ran for 100 days.
Her three 2010 releases, Bodyguard in Malayalam and Adurs in Telugu, all were super hit while her latest telugu release Simha was a blockbuster. Her forthcoming films include Boss Engira Bhaskaran with Tamil actor Arya and acclaimed director Shyamaprasad's Malayalam film entitled Electra. She is also making a glamorous debut into the Kannada film industry opposite super star Upendra.
Filmography
Year
Film
Role
Language
Other notes
2003
Manassinakkare
Gauri

Malayalam

Winner, Asianet Award for Best Female New Face of the Year
2004
Vismayathumbathu
Reetha Mathews
Malayalam


Natturajavu
Katrina
Malayalam


2005
Ayya
Selvi
Tamil


Chandramukhi
Durga
Tamil


Thaskara Veeran
Thankamani
Malayalam


Rappakal
Gauri
Malayalam


Ghajini
Chitra
Tamil


Sivakasi
Nayanthara
Tamil
Special appearance in song Kodambakkam Area
2006
Kalvanin Kadhali
Haritha
Tamil


Lakshmi
Nandhini
Telugu


Boss
Anuradha
Telugu


Vallavan
Swapna
Tamil


Thalaimagan
Meghala
Tamil


E
Jyothi
Tamil


2007
Yogi
Nandini
Telugu


Dubai Seenu
Madhumathi
Telugu


Sivaji: The Boss


Tamil
Special appearance in song Balleilakka
Tulasi
Vasundhara Ram
Telugu


Billa
Sasha
Tamil
Winner, Vijay Award for Favourite Heroine,
Nominated, Filmfare Best Tamil Actress Award
2008
Yaaradi Nee Mohini
Keerthi
Tamil
Winner, Vijay Award for Favourite Heroine
Nominated, Filmfare Best Tamil Actress Award
Kuselan
Nayanthara
Tamil
Simultaneously made in Telugu as Kathanayakudu
Sathyam
Deivalakshmi
Tamil


Aegan
Mallika
Tamil


Twenty:20
Diana
Malayalam
Special appearance in song He Dil Deewana
2009
Villu
Janavi
Tamil


Anjaneyulu
Anjali
Telugu


Aadhavan
Thara
Tamil

Nominated, Vijay Award for Favourite Heroine
2010
Adurs
Chandrakala
Telugu


Bodyguard
Ammu Ashokan
Malayalam


Goa


Tamil
Guest appearance
Simha
Gayatri
Telugu


Boss Engira Bhaskaran
Chandrika
Tamil
Post-production

Electra

Electra Alexander
Malayalam
Filming
Super


Kannada
Filming
2011

Mathilukalkkappruam

Narayani
Malayalam
Filming
Billa 2 - The Chase Continues
Sasha
Tamil
Announced.

[

5

]
Awards
2003 - Asianet Award for Best Female New Face of the Year - Manassinakkare
2007 - Vijay Award for Favourite Heroine - Billa
2008 - Vijay Award for Favourite Heroine - Yaaradi Nee Mohini